First Baptist Church Sylvania
(970) 247-0624
lindag@sylvaniafirst.org
This Week's Announcements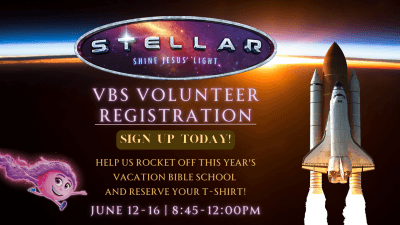 Volunteer signup and t-shirt orders!
read more
[wpv-view name="featured-missionaries"]
Volunteer at our  STELLAR
VBS

this summer! June 12-16 | 8:45-12noon

We need lots of volunteers to help launch us into a great VBS week! From donations to decorating, crew leading to registration, there are lots of opportunities to join the fun! Youth (6th-12th grades) and adults, please SIGN UP HERE to volunteer! (This is also the link to order VBS t-shirts- orders are due May 28!)
>>Want to donate to VBS? Make a check payable to Pierce Chapel and earmark it "VBS" or check out our Amazon wish list!
Looking for an opportunity to serve those affected by natural disasters?

Be a part of a small team traveling to the UMCOR Disaster Warehouse in Atlanta on Tuesday, May 30. Help sort items and pack buckets that will bless those recovering from natural disasters. This group will leave Pierce Chapel at 8:30 a.m. and return no later than 3:30 p.m.
>>If you are interested in joining this group, please call or text Peggy Loney at 706-718-0373. This will be the last trip for a couple months.  Daytrips will resume in September as the weather cools down.

Vacation Bible School is a hug outreach event for the summer! This year's theme is STELLAR and all about space! Please join us in the Hospitality Room, where we are working hard to transform the church into a space that's out of this world! If you can cut, paint, build or follow instructions, we invite you to join us! Youth are welcome to help but any students under 8th grade must be accompanied by an adult to help.
Upcoming VBS work days:
Saturday, June 3 | 9:00 AM
Saturday, June 10 | 9:00 AM- Decorations begin going up!
Sunday, June 11 | 12:30-6:00 PM- We will be working all afternoon so drop in and join us for a couple hours!
Check out our VBS wish list on Amazon! https://www.amazon.com/hz/wishlist/ls/2U1THIIO675BK?ref_=wl_share
Come join the Pierce Chapel Summer Worship Choir! The Choir will begin meeting Wednesday, May 31 at 7:00 pm in the Choir Room. This will be a great opportunity for you to serve the church and make a joyful noise in our Sunday worship services.
Come kick off the summer with games and a movie night! This event will be held Friday, June 2nd, on the church grounds with popcorn and ice cream. It will be a time for the whole family to enjoy, so don't miss it!
Outdoor games begin at 6:30pm
An ice cream stand will be open during the outdoor time
Build and bring in your own decorated "drive in" car made from a cardboard box and enter it for chance to win! Entries must be in by 7pm. The winner will be announced at 7:15pm.
At 7:15pm, we will move inside for concessions >> popcorn, water and juice boxes.
The movie will begin at 7:30pm in the worship center. You are welcome to bring a blanket to set up on the floor or chairs will be available.
$5 donation per family that will include all snacks (ice cream, popcorn, and juice boxes)
Interested in seeing and serving with Mission on the Move? Join this team going to Honduras in October!
Dates: October 20-27, 2023 | Santa Elena, Honduras
This group will be working with the children who MOM serves through their their orphanages, after-school programs and ESL classes. There may also be some opportunities to do small repairs and maintenance on their campus. Valid and current passport required.  Please contact Team Leader Peggy Loney for more information at 706-718-0373 or peggyloney@bellsouth.net .
Men for Christ is excited to share news about their new "Handyman Ministry!" This newly formed group from the men's ministry will offer their handyman services on projects around the church and to those in need within our church.  Individuals requiring assistance with simple tasks they are unable to complete themselves (such as replacing smoke detectors, yard assistance or minor home repairs) can put in a request for help from this group. The Handyman Ministry will also assist the Trustees Committee with small jobs on the Pierce Chapel campus. For more information, please contact Team Coordinator Windle McKenzie at windle48@icloud.com.
The Men's Bible Study meet on the 2nd and 4th Tuesday of each month in the Chapel at 7:00 pm. Men of all ages are welcome to join in as they will begin a new study on the Book of Judges. Come join us as we grow closer to each other and as we grow closer to Him.
Join this fun Senior group for an afternoon of games and fellowship every Thursday afternoon beginning at 12:30!  We hope you will be able to join us. If you have questions please call Sara Bankhead – 706-570-1263.
At Pierce Chapel, we believe that children are valued members who are fully able to experience and participate in worship, grow in discipleship and enjoy fellowship with each other! We also believe that by partnering with parents we can increase our impact and help children develop strong foundations in faith. 
CHILDREN'S CHURCH (3K-Kindergarten) | Room 315 at 8:30 & 11:00 AM
CHAPEL KIDS (1st-5th Grade) | Room 210 at 8:30 &11:00 AM (On 1st Sundays, this group remains in worship for Communion.)
SUNDAY CONNECTIONS CLASSES | 9:45-10:45 AM
———————————
Summer Kick-Off Movie Night- June 2 Join us on the Pierce Chapel grounds for snacks, games and a family movie night!
Questions about Children's Ministry? Contact Beth at kids@piercechapel.com.